Here's some feedback from customers over the years.
To leave your own, please use the form at the bottom of the page.
The experience of making my own stuff from a simple piece of steel was fantastic. Patrick was brilliant in teaching tiny details and let me and my fiancée make our own designs on 9 irons amulet which was very special. We'll definitely go there again. The food was amazing too..
Patrick May
I've bought some things from Patrick over the years, the 9 Irons amulets in particular are so cool and make an awesome present! Patrick is a cool guy too..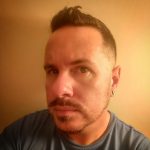 Leon Quinn